Available in printed or electronic versions!
• To order from JARON Ministries International
                               Click here: JARON Ministries
                                         Presently the sales price is
                                             $17.95 Paperback Edition
• To order from Amazon
Click here: Amazon
Presently the sale price is
$17.95 Paperback Edition
$12.95 Kindle Edition
• To order from Amazon United Kingdom & Canada
Amazon UK –  Click here: Amazon
Amazon Canada – Click here:Amazon
• To order translated versions
For audio, video and printed version in a number of languages, go to the International Page of this website. Click here: http://www.puritywar.com/international/
The Purity War book is now available in Polish.  For those of you in Poland, you may order the book by contacting:  http://slowoprawdy.pl/product.php?id_product=42.
The Purity War book is also available in French.  To order a French Translation, please click Amazon
Translated versions can also be ordered by contacting JARON Ministries at:  JARON Ministries
• To order autographed copies
To order or make a donation for autographed copies, click here and scroll down to Option #3:
The Accountable Life – Protecting Myself and Others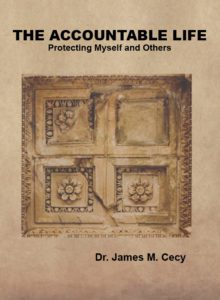 Living the accountable life is possible.  The challenge is that when it comes to accountability the old saying is true:  When all is said and done, a lot more is said than done.  This book, however, was designed to move us from talk to action.  In Part One:  The Value of Personal Accountability, we will address the importance of daily accountability to ourselves, others, and God.  In Part Two:  The Practice of Personal Accountability, we will be presented with clear instructions on how to start a safe, confidential, and effective accountability group.  For personal reflection and small group discussion, this book also offers an extensive Personal Accountability Program with sixty detailed worksheets.  This book can be ordered at Amazon.
 Anger:  The Worm in My Apple
A biblical and practical help for understanding anger as a God-given emotion, learning how to distinguish between godly and ungodly anger, getting to the root of our sinful anger, addressing the unresolved hurts in our lives, and responding to the effects of unresolved anger. Also learn how to grow the abundant spiritual fruit of Christ-like love, joy, peace, patience, kindness, goodness, faithfulness, gentleness and self control.   This book can be ordered at Amazon in paperback or Kindle.
Mastering the Scriptures – A Self-Study Course in Effective Bible Study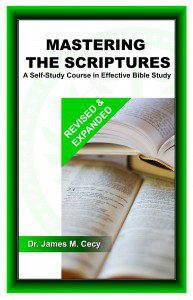 This self-study course (which can easily be used in group study) is specifically designed to: Help you personally grasp the depth of God's revealed Word and equip you with step-by-step techniques for thorough and inductive Bible study.  This book can be ordered at Amazon.
Have a G.R.E.A.T. Day – Living Our Lives One Blessed Day at a Time

In this book Pastor Jim presents us with biblically-based principles and practices that will equip us to have a lifetime filled with G.R.E.A.T. days. In particular, we will learn how to:       • GREET the day with PRAISE • REPORT to the day with PURPOSE • ENGAGE the day with a PLAN • ANALYZE the day with PERSPECTIVE • TERMINATE the day with PRAYER.  At the end of each chapter, Dr. Cecy has provided helpful questions for personal reflection and group discussion, as well as follow-up assignments for further study. This book also contains a study guide and many helpful tools to guide us on our journey to live full lives, one blessed day at a time.  This book can be ordered at Amazon.
Men In Action – Equipping Men to Lead in the Home, the Church, and the Community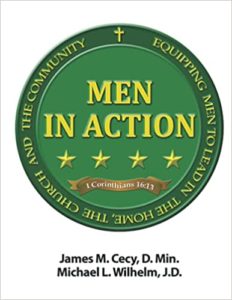 Men: want to take a deeper step in your relationship with God and learn what it means to be the leader God wants you to be in your home, marriage, work, and church? If so, this workbook will walk you through the different aspects of leadership.  God is calling men to be Men of God, Mighty Men of Valor, and Men in Action.  He desires they be Servant-Leaders. 
This well-tested, twelve week intense study is designed for groups of accountable men who strive to build their lives, their homes, and their local churches on solid biblical principles.  Besides being a course of group study, there are a number of outside assignments that will reinforce what was learned in class.  The appendices also contain a number of alternative sessions, study helps, and worksheets.  An extensive teachers guide is also available at JARON Ministries.  To order the book, click on this link:  Amazon
• To order other materials by Dr. Cecy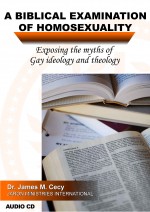 The following are CD's/DVD's and manuals related to purity available through JARON Ministries International. For detailed descriptions of these materials and ordering information, please contact: JARON Ministries
Authentic Holiness (audio series)
A Biblical Examination of Homosexuality: (audio series)
A Revival of Purity (audio series)
Ambassadors of Purity Accountability Workbook — Note: This is a counseling manual developed by Pastor Eugene Beck using the materials developed by Dr. James Cecy. Also called Building Personal Purity: Christian Living in an Immoral World Accountability Manual.

Ambassadors of Purity (audio series with companion workbook)

Building Personal Accountability (audio recording)
Combating Spiritual Dryness (audio series)
Communication in Marriage (audio series with companion workbook)
David: The Repentant King (audio message)
Immorality in the Ministry: The Pitfalls of Pastoral Power (audio or video series with companion workbook)
The A.C.T. of Repentance (audio series)
Life-Management 101: An Introduction to Life Skill Transformation (audio series)
Lord, I Want to Grow Up (audio or video series)
Mastering My Hang-ups & Habits (audio series)
Profile of a Godly Family (audio series)
Profile of a Pure Vessel (audio series)
Wise Living in a Foolish Age: Studies in the Book of Proverbs (workbook)