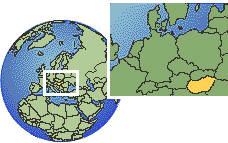 Throughout this trip I have heard the Czech people, the Romanians, the Moldovans, the Italians and the Polish comment not only about the moral demise of their culture but also about the financial despair of their people. As this trip unfolds, I fully expect to hear the same things in Hungary, Bulgaria and the Ukraine. However, even in the midst of a shifting economy, I have seen many of the faithful servants of God unwavering in their commitment to ministry.
I am here in Hungary, staying with my dear friend, Dr. Janos Illéssy. Besides his involvement in consulting multi-national businesses, János is a visiting professor of economics at business colleges and universities in Budapest. He is also a man who has a deep and abiding faith in Christ and a commitment to the authority of God's Word. He especially loves to guide people into a proper life of stewardship of all that God has given us. So, it is no coincidence that on the morning of my travel day to Hungary my scheduled Bible reading led me to Proverbs 30:7-9. It is an amazing piece of wisdom. I encourage you to read it with your own financial situation in mind — realizing that every financial situation is really a highly spiritual situation:
                  "Two things I asked of You,
                  Do not refuse me before I die:
                  Keep deception and lies far from me,
                  Give me neither poverty nor riches;
                  Feed me with the food that is my portion,
                  That I not be full and deny You and say, "Who is the Lord?"
                  Or that I not be in want and steal,
                  And profane the name of my God" (Proverbs 30:7-9, NASB).
I was also driven today to the counsel of Paul, the apostle:
"Not that I speak from want, for I have learned to be content in whatever circumstances I am. I know how to get along with humble means, and I also know how to live in prosperity; in any and every circumstance I have learned the secret of being filled and going hungry, both of having abundance and suffering need. I can do all things through Him who strengthens me." (Philippians 4:11-13)
Honesty. Contentment. Worship. Trust. What sound financial advice from the wisest of all economists (God), who inspired the richest of all men (Solomon), and the greatest of all missionaries (Paul), to write words that stirs the heart of one of Hungary's respected economists (János), and challenges the neediest of all people (Us). May these words be the foundation of our spiritual portfolio. May we make a daily deposit of praise into the bank of Heaven and enjoy the lasting dividend of God's peace.
Thanks for your investment of prayer for this ministry trip. Next stop…Bulgaria.