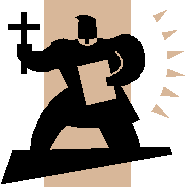 Today is my last full day at the European Leadership Forum. I have spent these days teaching a number of seminars, doing hours of video interviews, and countless one-one meetings with leaders of organizations, Christian businessmen and university professors. However, nothing has thrilled my heart more than meeting with pastors of local churches from all over Europe. (Some were also from Ethiopia and Myanmar).
No matter how small or large the church; no matter what denomination or country, pastors bleed the same blood. As these young men shared their hearts, one thing was obvious—they crave to be mentored by older and more experienced local church pastors. Even more than sharing ministry tools and resources, these young men in the faith want spiritual fathers who, after decades, still love ministry (and their family) and with whom they can share their deepest pastoral and personal burdens, knowing they are safe. Of course, they wouldn't mind a bit if these seasoned shepherds also shared some of their many sermon outlines and manuscripts. 🙂
I leave the Forum with a sense that I am not just leaving partners in the gospel but sons in the faith. I also leave grateful for the technology that will enable me to stay in personal touch with these many fine men of God. Although they expressed how much they need to stay in touch with me, this grey-bearded preacher needs to stay in touch with them. I need to catch their passion and be encouraged by their enthusiasm. I also need them to remind me just how blessed I was to have had spiritual fathers and godly mentors throughout my ministry.
I began this trip to Poland praying through the twenty-four ministry covenants, based on Paul's words in 1 Thessalonians 1-2 (See the article I wrote a few days ago entitled "Preparing Our Heart for Effective Ministry").  Ministry Covenant #22 stated "I will strive for such a relationship with the people I am serving that, once I leave, I will be eager to see them again." (1 Thess. 2:17). God has answered that prayer in full!  On to London…